About Us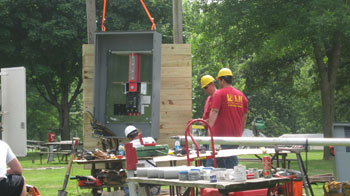 Company History
Randall Block began his electrical career and served his electrical apprenticeship under the watchful eye of Lukas Hunsinger, a European craftsman who immigrated to Chicago and started LH Electric Co. back in the 1950's. At that time, most of LH Electric's work was done in the City of Chicago where their work was focused on the renovation of the city's existing six flats that had been built in the early part of the century. Upon Mr. Hunsinger's retirement in 1979, Randall Block purchased the business and relocated his offices to the western suburbs. With the help of his wife Cathy serving as the company's office manager, they worked to build up their clientele. They continued to work in the city while expanding the company's scope to include the commercial and industrial communities in the surrounding suburbs.
In 1998, Jonathan Block, the oldest of Randy and Cathy's five sons joined the team at LH Block Electric. After serving his apprenticeship and acquiring his Chicago Supervising Electrician License, Jonathan brought his extreme work ethic and his many new innovative ideas to the company and currently serves as the job superintendent and chief estimator.
In 2006 ,Thomas Block, joined the LH Block Electric forces. After working for LH Block Electric during summers and college breaks, Tom completed his business degree and came on full time with the company bringing his business expertise to the office. Tom not only operates as the office manager, he also works in inventory control and purchasing. With his technological savvy, Tom keeps the business up to date with communication and technological advancements.
Currently, the youngest Block son, Gregory is studying Construction Engineering at SIUE and works during his breaks as an electrician's helper. Upon graduation, Greg plans to join the family business, bringing his engineering degree to LH Block's pool of resources.
Who We Are
In the past 30 years, LH Electric Co. integrated the family name into the business, strengthening the commitment to our reputation in providing professional, top-of-the line services for a fair, affordable price. LH Block Electric Co. Inc. holds an Electrical Contracting License and a Supervising Electrician License in the city of Chicago and in most of the surrounding suburbs. We are bonded and fully-insured, meeting and exceeding most project requirements. All of our technicians have completed the certified Associated Builders and Contractor's 4-year electrical apprenticeship program and many hold Chicago Supervising Electrician Licenses of their own. We pride ourselves on having earned and maintained relationships with many of our customers that span over the past 30 years.